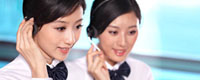 Name: Mr Wang
Tel: +86-311-89189099
E-mail: info@hbnana.com
Add: Add: Room 1702, Building No.D , Jianhua City Square, Chang'an District , Shijiazhuang , Hebei,China


Product name : Live Wild Animal Trap Cage For Rat Mouse Cat Possum

Product No. : 2016523111053

Price : US $50.00
Details:
Live Wild Animal Trap Cage For Rat Mouse Cat Possum



Features and use:
The trap cage is made of high quality 1008 steel through spot welding,
electric welding knee bend craft manufacture.
The product design is reasonable,the size,the trap institution,the angle of the door is scientific.
this kind of trap cage is humanistic design,the rat will not be hurt even to die,
also the dead rat will not smears the environment.
The Trap cages "Family" 14" Multi Catch Humane Rat Cage Trap The design of trap's door
can make it catch more rats.